Poole mosque damage perpetrators jailed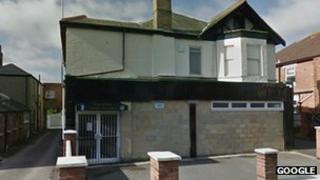 Four men have been jailed after they caused damage to a mosque in a Dorset town.
Windows at the Dorset Islamic Cultural Association in Poole were broken on 23 May.
Michael Manyweathers, 49, Jeremy Rochester, 33, Robert Mullins, 35 and Trevor Mullins, 38, admitted religiously aggravated criminal damage.
The four men were each sentenced to four months in prison for targeting the building.
Richard Oakley, district crown prosecutor, said the defendants had been seen drinking at the Grasshopper Public House in Poole shortly before the attack.
"A man matching the description of Trevor Mullins expressed anger concerning the murder of Lee Rigby, which had occurred the day before in Woolwich.
"The CPS takes very seriously any religiously and racially motivated attack and will robustly prosecute those cases when there is sufficient evidence and it is in the public interest to do so," he said.
Manyweathers, of Fernside Avenue, Poole, the Mullins's, both of Ash Close, Shaftesbury, and Rochester, of Cromwell Road, Bournemouth, all appeared at Bournemouth Crown Court.