White-clawed crayfish moved to to Lulworth Ranges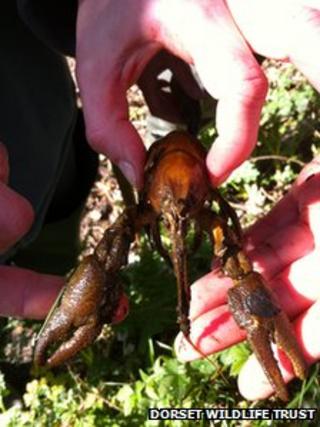 More than 100 white-clawed crayfish are being moved to an army range in Dorset in a £150,000 project to save them from extinction in south west England.
The UK's only native crayfish is under threat because of the spread of the non-native American signal crayfish.
The crustaceans were caught in traps baited with mackerel at an undisclosed river and moved to Lulworth Ranges.
Andrew Whitehouse, from Buglife, said: "We hope that the crayfish will thrive in their new home."
The land is owned by the Ministry of Defence (MoD) and part of the AFV (Armoured Fighting Vehicles) Gunnery School.
'Vast numbers'
Oliver Howells, ecologist for the Defence Infrastructure Organisation (DIO), said: "[We are] keen to support initiatives that benefit rare species.
"Like much of the MoD estate the release site has good habitat and high water quality because of the lack of intensive agriculture within the catchment, which made it a good choice for this project."
A team from Buglife, Avon Wildlife Trust, the Environment Agency, Dorset Wildlife Trust and the DIO moved the first batch over a two day period.
About 70% of the region's population has been lost since the 1970s.
Lydia Robbins, species officer at Avon Wildlife Trust, said: "Historically, there were vast numbers of white-clawed crayfish in Dorset's rivers."