Dorchester badger cull campaigners 'on same side'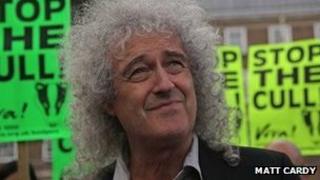 About 350 people packed Dorchester's Corn Exchange to hear Queen guitarist Dr Brian May talk about the forthcoming badger cull.
The controlled shooting of badgers, to control the spread of bovine TB, is expected to begin in parts of Gloucestershire and Somerset in June.
The cull will move to Dorset if it fails to go ahead in those counties.
At Friday's meeting, Dr May said pro and anti-cull campaigners were fighting for the same thing - eradication of TB.
His Save Me organisation, which is against the cull, is encouraging farmers to take part in a badger vaccination programme to prevent further spread of the disease.
'Same side'
Anne Brummer, CEO of Save Me, said: "We've had quite a few public meetings - all standing room only.
"There were a couple of times when people shouted out when things were being said and Brian was quick to say 'we need to communicate here and listen if people have opposing views'.
"He said the enemy is bovine TB and we should all be on the same side."
According to Defra, 34,897 cattle were compulsorily slaughtered between January and November 2012 because of TB, compared with 30,979 from January to November 2011.
Farming minister David Heath said: "The science is clear that culling will help to reduce bovine TB as one part of our overall approach to eradicating this disease."
However, Dr May, who is also vice-president of the RSPCA, has launched a petition calling for a halt to the cull.
It has so far attracted more than 223,000 signatures and is due to be presented to Defra on Saturday 1 June.