MJC Decorating and Refurbishing fined for Poole asbestos breaches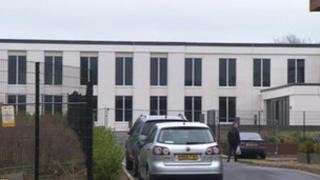 A decorating company has been fined £45,000 after it exposed staff and members of the public to potentially fatal asbestos material in Dorset.
Surrey-based MJC Decorating and Refurbishing Ltd failed to check for asbestos and use protective clothing when refurbishing offices in Poole.
At Bournemouth Crown Court, the company pleaded guilty to three breaches of the Control of Asbestos Regulations 2006.
The Health and Safety Executive (HSE) said it was "a very serious incident".
HSE inspectors found the company had removed ceilings at the two-storey Sentinel House block at the Nuffield Industrial Estate without carrying out a survey for asbestos.
'Totally needless'
The agency said four employees and 14 agency staff working under the control of MJC were exposed to asbestos dust and fibres that can cause respiratory problems and even incurable lung diseases.
It said MJC workers wore normal work clothes that became contaminated with asbestos fibres. This may have led to the exposure of many more members of the public during their journey to and from the site over a two-week period in 2009.
HSE inspector Helena Tinton said: "Regulations on dealing safely with asbestos have been in place for many years and are widely known in the industry.
"This totally needless incident would not have happened if MJC had carried out proper assessments and had trained staff on site."
The company, based at London Road, North Cheam, in Sutton, Surrey was fined a total of £45,000 and ordered to pay £36,943 in costs.