Weymouth Sea Life gives injured turtle 'dive belt'
16 May 2013

From the section

Dorset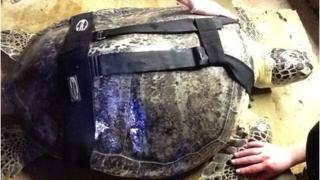 A turtle that was hit by a boat and left unable to swim underwater has been given a specially designed "dive belt".
Ali the green turtle suffered spine and shell damage off Florida more than a decade ago.
He was rescued in 2002 by Florida Turtle Hospital and is now at Weymouth Sea Life Adventure Park in Dorset.
Four other turtles rescued by the same hospital also live at the park and need help submerging.
"All five had weights glued to their shells to help them submerge, but Ali's shell is so badly damaged the weights won't stay attached," said park curator Fiona Smith.
Speaking about the device designed for Ali - who is named after boxer Muhammad Ali because he is so "feisty" - Ms Smith said it had pockets for weights, like a diver's belt.
"If Ali's new dive aid is a success we may invest in similar devices for the other turtles," she added.
"With a harness like this we can adjust or replace weights in a matter of seconds."