HMS Portland company hold freedom of borough parade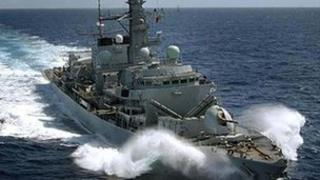 Officers and company of a Royal Navy frigate have exercised their freedom to parade through the borough which bears its name.
A service and parade through Weymouth honoured HMS Portland - it was awarded freedom of the borough of Weymouth and Portland in 2009.
The Plymouth-based ship's company also marched along Weymouth seafront.
The Type 23 frigate has recently undergone extensive maintenance at Rosyth Royal Dockyard in Fife.
A service at Weymouth Cenotaph was led by Rev Chris Bigg.
Commanding Officer Sarah West said it was a very memorable and proud occasion in Portland's history.
She said: "I and my ship's company are delighted to be a part of it."
Councillor Margaret Leicester, mayor of Weymouth and Portland, said: "We're all very proud of the captain and the ship's company in playing their part in a memorable day as honoured residents of our borough."
Commissioned in 2001, HMS Portland is set to be deployed to the South Atlantic early next year.