Volunteers granted Freedom of Brownsea Island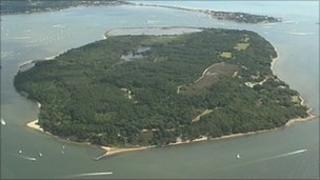 Three volunteers who have dedicated half a century to a Dorset red squirrel haven are being honoured.
Richard and Sandra Yeoman, and Lewis Parkyn, have all worked on Brownsea Island since it opened to the public.
They are being awarded the freedom of the island, giving them a lifetime pass, by the National Trust.
The ceremony will be attended by the granddaughter of Robert Baden-Powell, who held the first scout camp on Brownsea Island in 1907.
'Great privilege'
Angela Cott, of the National Trust said: "We are delighted to celebrate the remarkable dedication and hard work of Richard, Sandra and Lewis.
"Being there all the way through the National Trust's time on the island and helping us to make it such a special place for our visitors."
Sandra Yeoman became a volunteer as her future husband was already working on the then overgrown island when they began dating in 1963.
Mrs Yeoman, from Poole, said: "We were one of the first to set foot on the island. It's been a great privilege."
The island in Poole Harbour was gifted to the National Trust 50 years ago by reclusive owner Mary Bonham-Christie.
Brownsea is a haven for red squirrels, with 250 living on the half a mile long island.