Slow worms moved for new Swanage school building
13 May 2013

From the section

Dorset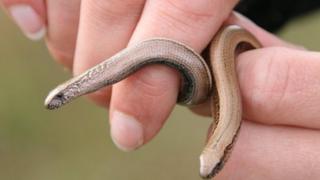 Delays in trapping and moving slow worms are holding up the building of a Dorset School.
The reptiles have to be moved from a greenfield site before work can start on a building for Mary's Primary School in Swanage.
The limbless lizards have protected status in the UK and under the Wildlife and Countryside Act 1981 it is illegal to intentionally kill or injure them.
Head teacher Linda Lake said she was "ever hopeful" they could be moved.
The presence of slow worms was highlighted in an ecological report about the greenfield site earmarked for the new school building.
The school was originally due to be built by September but this has already been put back to February 2014 as trapping can only be conducted between the months of April and October.
Ms Lake said: "It's a two-pronged thing - we teach the kids to love nature but we really need to move the school."
The ecological report said there was a "good population of reptiles present" and trapping would need to be carried out for a minimum of 30 days when the temperature was greater than 9C.
Consultant ecologist Daniel Whitby said he was "confident" the slow worms, which can grow up to 50cm (20in), could be trapped and moved in time for the work to start on the building.