Corfe Castle pub struck by vintage steam roller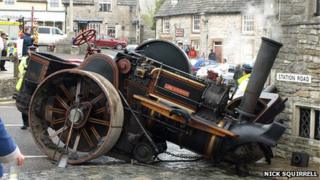 A vintage steam roller has smashed into a pub in a Dorset village.
The engine was travelling through Corfe Castle on Sunday afternoon when it struck the corner of the Bankes Arms.
Customers and staff inside the 300-year-old building reported feeling the "building shake". Damage to the pub is believed to be minor.
No-one was injured in the crash but the front of the Fowler D2 engine, which dates from the early 20th Century, was badly damaged.
Eyewitness Angela Sturch said the engine was travelling very slowly through the narrow village streets when the accident happened.
She said the driver seemed to be trying to avoid a car which came out of a side road and then slid into the building.
"It just fell apart in front of our eyes - it had been looking lovely and it was very sad to see it collapse in pieces.
"People had been standing watching it, so it was just lucky there wasn't a tragedy."
A spokesman for the National Trust which owns and leases out the building said structural engineers had assessed the damage.
The pub had only recently re-opened after refurbishment. It remains open for business.