Bournemouth council 'owed £15k by surf reef firm'
7 May 2013

From the section

Dorset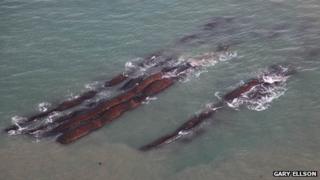 Bournemouth council is trying to claw back almost £15,000 in public money it says it is owed by a failed surf reef company, the BBC can reveal.
New Zealand-based ASR Limited built the £3.2m reef in Boscombe in 2009 but was placed in liquidation in September.
The council said it spent £14,813 in March 2012 to remove a container left by the firm and has applied to be an unsecured creditor.
Opposition councillors said pursuing the claim was "a waste of time".
Labour leader Ben Grower said: "It could have been either £15m or 15p. It won't make any difference.
"Why doesn't the council just put in a claim for the whole £3.2m it cost to build the thing?"
The council is close to finalising an insurance claim for damage to two of the reef's sand-filled bags from a boat propeller in May 2011.
It would not confirm the amount, but expects it to be significantly more than the liquidators' claim.
Local contractors involved in the reef's construction in 2009 have also registered creditors' claims, some as much as £34,000.
Dive centre
Liquidators Pricewaterhouse Coopers' latest report, released through Companies House in New Zealand last month, revealed attempts to contact ASR's owner Nick Behunin and majority shareholder Sealutions LLC have been unsuccessful.
Since being placed in liquidation, NZ $7,447 (£4,069) has been raised from the sale of the company's remaining assets. After liquidators' fees and taxes, ASR has NZ $28,127 (£15,369) in cash left in the bank.
While the council would not comment directly on the creditors' claim, its tourism director Mark Smith said the reef still had potential.
He said: "As an all year round attraction, it can be more fully developed through the Coastal Communities Fund initiative we have received."
Mr Smith confirmed ideas include a commercial dive centre, for beginners and experts, which could include submerging artefacts for more experienced divers.
A dive and snorkel trail around the existing reef would also be included.
Engineer David Weight, credited with the reef's original design, feels the council has been reluctant to listen to alternative proposals.
He said: "At the moment, it's simply a resource that's good for fishing and diving, but it's no good for surfing.
"It could certainly be compatible as a coastal protection resource, but I don't see it being compatible with surfing."