Warning after massive Jurassic Coast cliff fall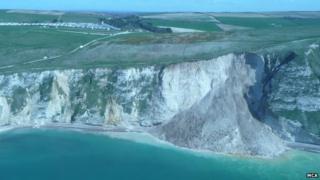 People have been urged not to sit directly beneath cliffs after a huge landslip in Dorset.
A 20m (65ft) section of the South West Coast Path above St Oswald's Bay, east of Durdle Door, fell away in the early hours of Tuesday.
The fall was discovered by Portland Coastguard and the path was diverted.
Beaches are open but visitors have been advised to "exercise due care, behave responsibly and observe all warning and diversion notices".
A spokesman for the the Lulworth Estate, which owns the land, said wet weather over the past 12 months, followed by recent dry conditions, had left the cliffs in a "fragile" state.
James Weld, also from the estate, said: "This spectacular cliff fall is part of the natural erosion process along the Jurassic Coast and is a common feature of this area, primarily during the winter and spring, although seldom on this scale.
'Very little warning'
"As always, visitors to this stunning coastline should take care and be aware of their own safety."
He said the Durdle Door Holiday Park nearby was unaffected and remained fully opened, along with the beaches at Durdle Door, St. Oswald's Bay and Lulworth Cove.
"Walkers using the South West Coast Path are advised to keep to the designated route and stay away from the edge," he added.
Earlier this month several landslips happened at nearby White Nothe and a section of cliff came down on Swanage beach just before Christmas.
Richard Edmonds, earth science manager with Dorset County Council's Jurassic coast team, said: "The largest similar rock fall last happened in April 2000 at Mupe bay.
"This type of event is very unusual.
"This is an eroding coastline which brings its own hazards.
"Our advice as always is to take care and stay away from the cliffs."
Dr Simon Boxall, of the University of Southampton, described the latest landslip as "awesome" and said it was likely the fall happened "in one sudden go".
"It is a relief this didn't happen during a busy weekend. There would have been very little warning anything was going to happen.
"It's very difficult to predict where and when these landslips are going to happen."