Dorset litter picker plan 'highly dangerous'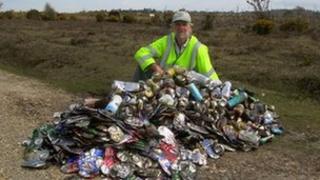 A self-styled "professional litter picker" has been warned by a local authority that his campaign to raise £10,000 could be "highly dangerous".
Simon Owens, 50, a cabinet maker from Dorset, plans to use the money to clear up rubbish over a three-month period.
But Steve Burdis, director of the Dorset Waste Partnership (DWP), said only highly trained staff should pick litter on high-speed roads.
Mr Owens said he wanted to debate the issue of "unnecessary litter".
"The amount of litter that lines our roadsides, pollutes our rivers and kills our wildlife is shocking. Recently I collected 1,100 aluminium cans in 16 hours around Dorset and the New Forest," said Mr Owens.
"The aim of this project is to improve the look of our beautiful landscape, but most importantly to ask people to please stop littering.
"The consequences of dumping waste and throwing cans from car windows are much deeper than just being unsightly."
The DWP recently spent about £10,000 clearing nearly two tonnes of rubbish dumped along the A338 Spur Road.
It took five nights - two more than expected - to clear the five-mile stretch between Ashley Heath roundabout and Blackwater junction.
'Strictly controlled'
Mr Burdis said the DWP appreciated Mr Owens's enthusiasm and confirmed he had been in touch to discuss his proposals.
"It would be highly dangerous to try to pick litter on high-speed roads. This is strictly controlled by legislation and requires specialist health and safety measures and equipment," he said.
"If [Mr Owens] is doing this in safe community areas we wish him well and very much share his anti-littering message.
"In legal terms, if Mr Owens is getting paid it becomes commercial waste and he would need to pay for its treatment or disposal and satisfy the relevant legislation."
Mr Owens wants to spend two months cleaning Dorset and the New Forest and a further month collating the results in the form of a YouTube video.