Diamond Jubilee Jigsaw of 40,000 pieces breaks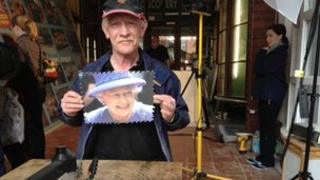 A 40,000-piece jigsaw created for a world record attempt has collapsed, leaving the craftsman who made it the task of putting it back together.
Dave Evans, from Weymouth, spent 35 days hand-cutting the 19ft 6in by 8ft (6m by 2.5m) jigsaw, featuring 33 images of the Queen's Diamond Jubilee.
He completed it at Brewers Quay on Wednesday but when he returned on Thursday it had moved slightly.
As he was making adjustments, he said he became distracted and it collapsed.
Mr Evans said the jigsaw had been left on a slight slope and he decided to adjust it to stop it moving further.
At that moment, a passer-by stopped to ask for directions and, while he was distracted, the "whole thing just collapsed".
He said: "Because it is made of 6mm birch ply, a lot of it held together.
"My first reaction was to say 'worse things happen at sea' because all the information had already been sent off to Guinness World Records.
"I don't get much chance to put them together. It's one thing cutting the jigsaw but it's totally another thing for it to dismantle itself.
"We started [to put it back together] at 12 o'clock yesterday - I suppose the interesting thing is how long it will take to reassemble. I expect it will take about four days."
The jigsaw is due to go on display at the Sandringham estate in Norfolk in May before it is auctioned to raise money for Help for Heroes.
Guinness World Records said it takes up to six weeks to verify an attempt.
A spokeswoman confirmed no record exists for the largest hand-cut, wooden jigsaw puzzle. For a new entry to be created the work had to be at least 10,000 pieces.