Dorset Wildlife Trust Victorian van restored for public
16 April 2013

From the section

Dorset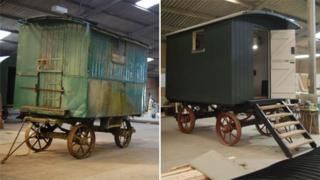 A rare, Victorian so-called "living van" recovered from a nature reserve in Dorset has been restored and is to open to the public for the first time.
It was donated along with Greenhill Down reserve, where it was used as a private shelter from the 1970s, to Dorset Wildlife Trust in 2004.
It will open as an education space at the trust's Kingcombe Centre in May.
Living vans were used up until the 1950s as temporary accommodation for road maintenance workers.
The van, which is thought to have been built in about 1900 in the south west of England, was "rotten and rusted", according to Plankbridge Shepard Huts before it carried out the restoration work.
It has been restored using traditional methods and materials, including new woodwork, windows and wrought iron latches.
"Finding any sort of living van in a reasonable condition is rare and this one is particularly unique because it has leaf springs - which means it has a suspension," said Johnno Farrar, who helped to restore the van.
"They don't usually have them because they were only designed to travel very slowly behind steam rollers and therefore didn't need them, so this must have been a later modification."
Former Greenhill Down landowner Angela Hughes donated the reserve and van to Dorset Wildlife Trust, where she was a former vice president, prior to her death in 2009.