Thomas Hardy bedrooms to open at Max Gate, Dorchester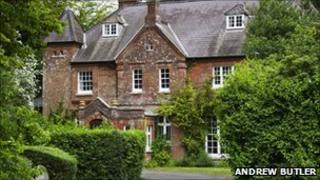 The room where Thomas Hardy wrote the Mayor of Casterbridge and died is to open to the public for the first time.
Two rooms, both used by Hardy as bedrooms, are expected to open at Max Gate in Dorchester in June.
Previously six rooms at the poet and novelist's former home, including two studies, the dining room and kitchen, were open to visitors.
The National Trust-owned property was officially opened to the public in 2011.
'Enhance the experience'
Mike Nixon, secretary of the Thomas Hardy Society, described the move as "absolutely brilliant news".
"It will enhance the experience for visitors to Max Gate and allow them to better identify with Hardy," he said.
Hardy and his first wife Emma moved into Max Gate, which he designed, in 1885. He also lived there with his second wife Florence following Emma's death in 1912.
Casterbridge is commonly thought to be the name Hardy gave to Dorchester.
He also wrote Tess of the d'Urbervilles and hundreds of poems while living at Max Gate.
The house was bequeathed to the National Trust by Hardy's sister Kate following her death in 1940.
All of Hardy's belongings were sold after his death in 1928.
But a desk and other objects once owned by the novelist feature in a recreation of one of his studies at the nearby Dorset County Museum.