Condor Ferries confirms return to Weymouth in July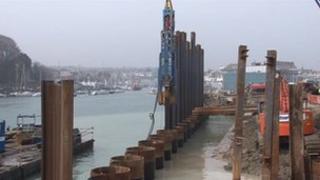 Condor Ferries has confirmed that its services from Weymouth in Dorset to the Channel Islands and St Malo in France will resume as planned in July.
Fast ferry services were transferred to Poole in February 2012 because of safety concerns after part of the ferry berth wall started to collapse.
Work to repair it is due to finish in time for the return on 17 July.
The year-long change has meant a million passengers switching ports, leaving some businesses struggling.
Bookings up
Weymouth and Portland Borough Council confirmed the work was "on track to be completed in time for Condor Ferries' return".
Mark Cole, from The Bourneville Hotel, said bookings were up for the summer compared to last year.
"I think people stayed away a bit last year because of the Olympics," he said.
"In terms of the Condor, yes, we would love to have it back. It's a huge part of business.
"We've got some of the guys who are working on fixing the harbour problems staying here. So I suppose that's the one benefit we have had from Condor leaving."
Sailing from Poole instead of Weymouth adds 30 minutes to every Channel Island crossing and ended up costing Condor Ferries an extra £1m in fuel last year.
Alicia Andrews, from the company, said: "We are looking forward to coming back on 17 July.
"We've taken tens of thousands of bookings and we're looking forward to welcoming hundreds of thousands of guests through Weymouth this summer."
Services from Poole to the Channel Islands and France will continue as normal after the return to Weymouth.