Dorset swans are speared in "cowardly" crossbow attack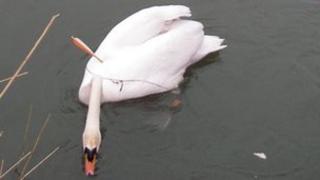 A swan died and another was seriously injured after being shot by a crossbow in Dorset.
The mating pair were both speared in an attack on the water near Throop Mill in Bournemouth.
The RSPCA said part of a crossbow bolt lodged inside the male swan's body and missed its heart "by millimetres".
It was has now been released following emergency surgery to remove part of the bolt. The female swan was found dead on Friday, the day after the attack.
'Cowardly, heinous act'
The RSPCA was alerted by concerned passers by who spotted the swans - which are the property of the Queen - with crossbow bolts in their bodies on Thursday.
The male was rescued with the help of a specialist crew from Dorset Fire and Rescue Service.
The swan underwent emergency surgery to remove part of the bolt which had snapped off inside its body.
It had speared the swan's lung and become lodged in its rib.
RSPCA inspector Graham Hammond who helped in the rescue operation branded the attack a "cowardly, heinous act."
He added: "Mute swans mate for life, which makes this incident particularly tragic.
"We have had to show the male swan the body of his partner.
"It may sound strange, but it is important that he understands she is gone."
Police have been alerted and the female swan's body has been sent for forensic examination.