Friend tells of Dorset pig farmer's devastation after blaze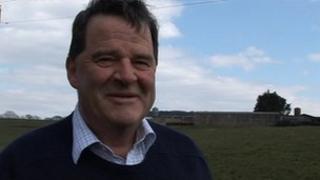 A close friend of a Dorset farmer who lost 975 pigs in a blaze has told how the ordeal has left the family "devastated."
Jonathan French said friend Jeremy Barber spent about 40 years building up his pedigree pig breeding business at Seaborough Manor near Beaminster.
About 50 firefighters tackled the blaze at the 330ft piggery early on Friday.
Mr French said his friend is known as a "top breeder" of Large White pigs, which were among those that perished.
'Hugely devastating'
He said: "This wasn't a commercial pig farm, it was pedigree that's taken 40 years of Jeremy's life to breed and build up and those effects will be felt hugely amongst him and the family for many years to come."
He added: "Without a doubt he was the top breeder in the country so that effect will obviously have a knock-on effect to other people over a period of time."
Mr Barber was too upset to speak about the loss.
Mr French said the family would fully co-operate with investigators and try to get back on their feet as soon as possible.
He said: "The impact is hugely devastating on the whole family, the fact that animals perished in that fashion."
An asbestos roof was involved in the fire. However, Dorset Fire and Rescue Service said no other properties were affected.
About 180 piglets and 18 sows died in a fire at Corton Farm in Friar Waddon, Weymouth in Dorset in May last year.
The large farrowing unit suffered severe fire damage and none of the pigs survived.