Christchurch Angels to befriend lonely pensioners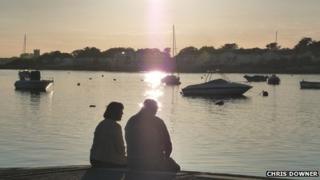 A Dorset town with England's highest concentration of pensioners living alone has started a befriending service to tackle feelings of isolation.
The Christchurch Angels will make home visits and help engage people who feel lonely in social activities.
"Angel" Linda Green said the problem of elderly loneliness was "massive" in the town as people have moved away from family and friends to retire there.
One-in-six Christchurch residents are over 75, against one-in-13 nationally.
'Acute and debilitating'
The 2011 Census also records one-in-20 of the town's residents are over 85 compared to the England average of one-in-50.
The Angels service wants to "address the unmet needs of vulnerable people" in the town according to the Christchurch Community Partnership, which set up the scheme following feedback from patients, carers, churches and GPs.
Ms Green said: "We have a massive problem in Christchurch with couples who retire down here.
"One of the partners unfortunately dies and we end up with one older person on their own, away from their family and long term friends.
"That sort of social isolation after bereavement can be particularly acute and debilitating."
The service is predominantly for older people but can also be for younger people who feel isolated.
Reverend Sandra Prudom of the Christchurch Baptist Church said "social isolation" affected people "right across the age spectrum, not only the elderly".
She added: "Christchurch Angels is designed to reach those in our community who don't have a network of family or friends to give that practical help and support in times of crisis or illness."
According to a report by the English Longitudinal Study of Ageing (ELSA), one-in-six over 50s feel socially isolated in England.