Poole to Cherbourg ferry service reinstated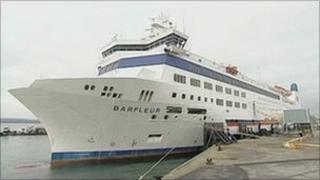 A cross-Channel ferry service has been reinstated for the second time.
Brittany Ferries ship the Barfleur has resumed its daily trips between Poole and Cherbourg.
The service was stopped in 2010 then reinstated on a trail basis in February 2011, before being withdrawn again that October.
The firm said a "combination of factors" led to the latest reinstatement, and the service's future would depend on how many people use it.
The Barfleur had been leased to another firm, while Condor Ferries had been providing summer crossings between Poole and Cherbourg.
A Brittany Ferries spokesman said the end of both contracts prompted the return of the Barfleur, which he said would run year round "depending on how it does this summer".
Poole Borough Council leader Elaine Atkinson said the reinstatement was "great news" which showed "confidence in the port of Poole".