Jade Clark hit-and-run death: Police check hundreds of Volvo XC90s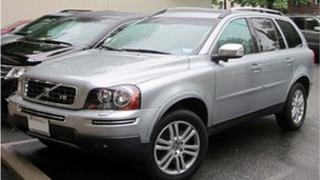 Police have ruled out more than 800 Volvo XC90s in their hunt for a hit-and-run driver thought to have killed a 16-year-old girl in Dorset.
Jade Clark died when her moped was involved in a collision on the A31 at Ringwood at 20:23 GMT on 24 February.
Dorset Police believe she was struck by a light coloured Volvo XC90 registered between 2003 and 2007.
Detectives said most checks were being carried out locally but some had been made in other areas of the country.
The driver fled the scene and has not yet been found.
'Someone knows'
Police had said "a number of vehicles" were involved in the collision but they believed the Volvo struck the moped first and would have sustained front-end damage.
Speaking directly to the driver of the Volvo XC90 involved in the collision, Det Insp Marcus Hester, of the force's major crime investigation team, said: "Please come forward and speak to us. We know that your collision with Jade did not kill her.
"A 16-year-old girl died over no fault of her own and it is very important for us to establish exactly what happened."
He also appealed for anyone else with information to come forward.
"Someone somewhere knows where this vehicle is and we aim to find it," he said.
Rewards totalling £5,000 are being offered for information leading to the Volvo driver being charged.
A post-mortem examination showed Jade died from severe head injuries after being hit by a number of vehicles.