Dorset police seek potential victims of rapist "Silver Steve"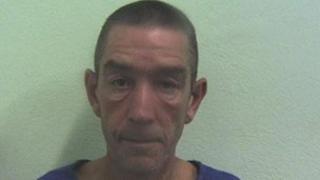 Potential victims of a rapist who worked as a "living statue" street entertainer in Dorset are urged to contact police.
Detectives have released an image of Steven Beeks, 50, of no fixed abode, known as "Silver Steve", amid fears he may have committed other crimes.
Beeks is serving seven years in jail for one count of rape and one assault.
He did not commit the crimes in Dorset - but police said he worked as a street performer in Weymouth in 2011.
Det Con Steve Dodge from Weymouth CID said: "I am taking the unusual step of releasing Steven Beeks' image into the public domain in the belief that there may be other victims of crime that have yet to be identified by investigators.
"Beeks has travelled extensively throughout the country.
"He has been of no fixed abode for a number of years and has earned casual income as a street performer - a silver living statue.
"Beeks used an alias of "Silver Steve" and we know he was living in the Weymouth area in the summer and autumn of 2011".
Beeks was jailed in February after a jury at Caernarfon Crown Court in north Wales found him guilty of committing the crimes in north Powys and Shrewsbury.
He has had to sign the sex offenders register and is subject to monitoring for life.