Wimborne Folk Festival given council funding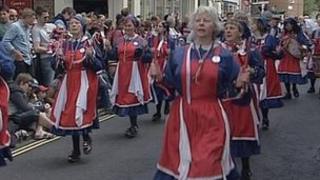 A revived folk music festival in Dorset has secured council funding.
East Dorset District Council confirmed £14,000 towards running costs and street cleaning for Wimborne Minster Folk Festival.
The music and dance event had been running since 1980, but previous organisers ended it last year,
Mike Carhart-Harris, one of the volunteers organising a new festival, said the funds would help "develop a fantastic event for 2013 and beyond".
The annual event regularly attracted crowds of 25,000 to the town each June.
'Folk traditions'
A team of local volunteers came together in September to organise a new festival when the previous owners announced it would end due to difficulties in raising funds for the event.
Mr Carhart-Harris said: "It's great to receive such a resounding endorsement from councillors.
"We want this to be a truly community-led and family focussed event that is safe and fun for all while promoting our rich folk traditions to new generations."
He said the new festival was on a "realistic, sound financial basis" with revenue for the festival also being raised through sponsorship and fundraising concerts.
Matti Raudsepp, of East Dorset District Council, previously said the authority was keen to keep the event.
"The festival has become an important part of the Wimborne calendar over the years, and has attracted national and international attention," he said.