PCC calls for mobile phone law change
7 March 2013

From the section

Dorset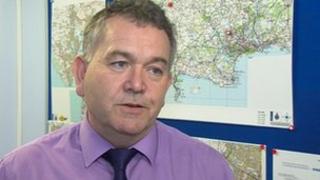 Dorset's Police and Crime Commissioner (PCC) wants the law for using mobile phones while driving reviewed following the death of a motorcyclist.
Biker David Bartholomew, 54, died last March after a collision with a car in Ferndown driven by Collette Carpenter.
Ms Carpenter, a special constable, was not prosecuted by the Crown Prosecution Service (CPS) because it said there was no evidence she was holding her phone.
Martyn Underhill said there was a "grey area" in the law.
He added he was "as frustrated as the public" that a prosecution did not take place.
Dorset Police said Ms Carpenter had admitted using her mobile phone on loudspeaker and in her lap.
The special constable, who has since resigned, was not charged following the crash on the A31.
"The issue for me is why someone can drive with a mobile phone on their lap in an active conversation and not be prosecuted and, as we saw tragically in this case, someone died," Mr Underhill said.
'Major distraction'
It is illegal to use a mobile phone held in the hand while driving or while stopped with the engine on.
Mr Underhill said his comments were not a criticism of the CPS but added he thought the law needed changing.
"Having a mobile phone on your lap as you're driving has got to be a major distraction," he said.
In a statement the CPS said: "There was no evidence to support that Ms Carpenter was holding her phone at the time of the collision.
"Having considered all of the available evidence, we decided that there was insufficient evidence to prove that Ms Carpenter's driving fell below or far below the standard required."
Mr Bartholomew, from Bere Regis, died from his injuries at Poole Hospital.