'Grenade' found on Canford Cliffs Beach by dog walker
20 February 2013

From the section

Dorset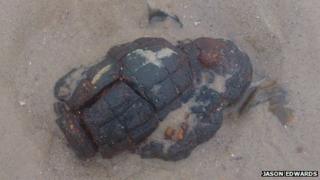 A device, though to be an old explosive, has been found on a beach in Dorset by a man walking his dog.
Police were called shortly after 10:30 GMT to Canford Cliffs Beach in Poole, where they found the device almost embedded in a rock.
Jason Edwards said his dog found a "brown stone", which on closer inspection looked like "a very, very rusty old hand grenade".
The Army's bomb disposal team has been called in and the area cordoned off.
Police confirmed it appeared to be an old device and that it was found opposite the public toilets.
Mr Edwards said: "It had the sort of, I suppose you'd describe it as a pineapple marking on it, the criss-cross markings on the outside.
"But it was very, very rusty and broken up.
"The first thing I very stupidly did was to take a photograph, because it was right on the waterline and I'm not sure if the tide was coming in or out.
"I just wanted to record it in case it had been buried underneath the sea before anyone came to have a look at it.
"I very carefully put a pile of stones a few feet away from it to mark where it was, phoned the police, stepped back and just waited for them to arrive...".