Dorchester's Brewery Square to see first hotel open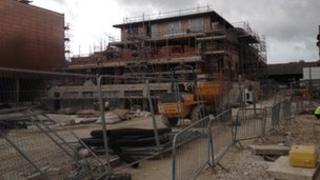 A new £100m regeneration project in Dorset will see its first hotel open in spring, developers have said.
A cinema, restaurants and shops have already opened at Brewery Square, Dorchester, and the first of two hotels is expected to open on 25 March.
Premier Inn is taking online bookings for the 76-bed hotel for dates from 28 March.
The development is housed within the site of the old Eldridge Pope brewery. Other proposals include a 4-star hotel.
Dray Horse Yard, which includes a multiplex cinema and restaurants, was opened at the site in October last year as part of the project's current phase two.
The main square of the regeneration project was also set to open that month but has been delayed until April because the wet and windy weather of last summer meant cranes had been unable to operate.
No opening date has yet been set for this.
The next phase of the project includes the conversion of the 130-year-old former brewery building into a 4-star hotel and spa, and homes.
Phase one of the scheme, which is now complete, included the construction of a new health centre, shops and apartments.
The Eldridge Pope brewery closed in 2003.