Weymouth Tower attendance 'disappointing'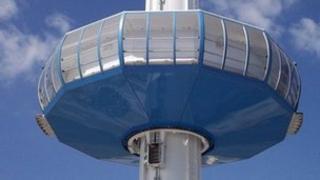 The number of visitors to a £3.5m viewing tower on the Dorset coast has been "below expectations", its operator has admitted.
Merlin Entertainments, which runs the 53m (173ft) Weymouth Tower, would not give attendance figures but said they had not been as hoped.
The tower and rotating platform opened in June, ahead of the Olympics.
Weymouth and Portland hosted the Olympic sailing events during the 2012 Games.
General manager Craig Dunkerley said visits to Merlin's other attractions in Weymouth were also down.
He said: "In terms of Weymouth as a resort, it's not been a brilliant year. The Olympics has affected us and the weather has been terrible.
'Significantly down'
"In terms of 2012, it has been a very challenging year - it has been the same for the hotels. There have been a number of factors.
"It has been disappointing. The numbers coming to the tower have been below expectations."
Mr Dunkerley said he saw no increase in visitor numbers during the Olympics.
He said: "The tower was a five-year commitment and the Olympics was only two weeks in that five years but we had hoped that all our businesses in Weymouth would be busier.
"The local area was significantly down, not just during the Olympics but we also had bad weather.
"It's a fantastic site and we are hoping that in 2013 it will bounce back - some of the hotels are already telling us bookings are up this year."
Entry to the Weymouth Tower costs £8.10, or £5.67 if booked online in advance.
Merlin also runs the Sea Life Adventure Park and Pirate Adventure Golf Course in Weymouth.
Following the first Olympic events in Weymouth and Portland on Sunday 29 July, many businesses complained that trade was quieter than expected and some reported a making a loss.
The 30,000 to 60,000 visitors that were predicted by Olympic organisers failed to materialise and police officers drafted in for Olympic duty were deployed elsewhere.
A two-week festival, which was due to run alongside the sailing events on the Esplanade, had to close on 3 August after lower than expected visitor numbers.