Lightning 'may have caused' fires at Dorset school and hotel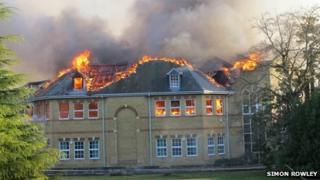 Two separate fires in Dorset - one at a derelict hotel and another at a school - are thought to have been caused by lightning, the fire service has said.
About 25 firefighters were called to the Cliff End Hotel in Boscombe, Bournemouth, just before 07:00 GMT, to a fire in the roof and second floor.
Minutes later a fire broke out in the roof of Lytchett Minster Upper School.
The fire service said a big thunder storm in the area at the time was likely to have caused the school fire.
More than 55 firefighters from three counties were called to the school near Poole.
Station commander Dave Arundel, from Dorset Fire and Rescue Service, said: "I spoke to the initial attending officer in charge and he said that on his arrival the fire was out through the roof, which is unusual unless it was a lightning strike.
"All that said, it's still under investigation."
'A tragedy'
A fire service spokeswoman said it was still too early to enter the hotel building to find out what had caused that fire but a lightning strike could not be ruled out.
There are no reports of any injuries in either fire.
Mr Arundel added: "This is probably the largest school fire of its kind we've had to deal with.
"We are still working on it, so we don't know the full extent of the damage.
"In my professional opinion, children and staff will not be able to return to this building.
"We are waiting to see if any sections of the building have collapsed, but I don't believe it to be structurally sound."
Ian Jolly, who lives next to the school, said: "My wife and I were woken up at quarter past six by a massive thunder clout.
"Clearly that had got through to the school and done some damage, which wasn't evident for quite a while. It must have broken through the roof and set off all the alarms.
"It's just a tragedy."
Arson attack
The school arts block and theatre were destroyed.
Local man Sam Elms, who was also near the fire in Lytchett Minster, said: "It's sadly a big mess. There are huge plumes of smoke going up into the air.
"The locals who I've spoken to this morning have indicated that the fire itself is believed to have started after a thunderstorm at about 6 o'clock this morning."
Lytchett Minster School, which was empty during the holiday, was targeted by an arsonist in 2000 and the science, maths, and humanities blocks and the school theatre destroyed.
They were rebuilt and in 2009 the new section opened, which Mr Arundel said was the part of the school affected by the fire.
Boscombe resident Paul Frank said: "At about ten past six I was woken up by a lightning flash and thunder and a few minutes later another lightning flash and thunder.
"Then a quarter of an hour or 20 minutes later I looked out of the window and the Cliff End was on fire.
"I live right next door to the Cliff End Hotel in one of the apartment blocks. My window overlooks the back of the Cliff End Hotel on to Manor Road.
"The place is in a pretty bad state of affairs at the moment and nobody actually lives there.
"It's been derelict for maybe 10 years."