Surface repairs on Poole's Twin Sails Bridge link road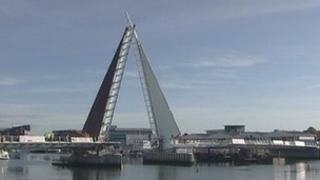 Four days of work to repair the surface of the link road to Dorset's £21.6m Twin Sails Bridge has begun.
A recent inspection of the Poole road found there were still "issues with the binder material" despite remedial work being done earlier this year.
Shortly after opening in April parts of the road surface on the bridge, linking Poole Harbour with Hamworthy, also fell away when the structure was raised.
But the council said those issues and the current problems were not related.
A spokeswoman said in places the binder, that was supposed to seal the surface of the road, had not fully hardened and was therefore allowing the stone to be pushed down by traffic.
'Essential' works
The affected sections of the road surface, about 20%, will be removed and replaced between Monday and Thursday.
The road will remain open with two-way traffic signals in operation, and bridge lifts will continue to operate to schedule.
Julian McLaughlin, head of transportation services at Borough of Poole, said: "Earlier in the year the binder material, which forms part of the road surface, was found to be defective.
"Remedial work was undertaken but it has now become evident that these measures have not been successful.
"The link road plays an important role in improving traffic flow and easing congestion in the town so it is essential that these remedial works are undertaken as soon as possible."