Rugby player attacked in Bournemouth 'let down' by police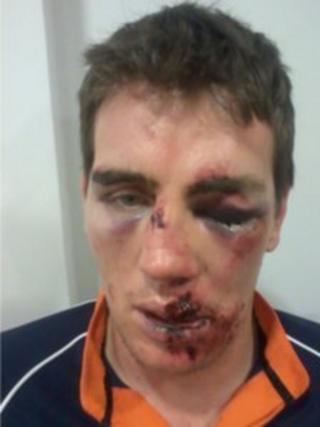 A Bournemouth RFC rugby player who suffered serious injuries in an attack in the town said he feels "let down" by police for not publicising the assault.
Ben Stewart, 32, was attacked in the town centre after celebrating winning the first match of the season.
He says his request to police for the attack to be circulated to the media was turned down as assaults on Old Christchurch Road are too common.
Dorset Police said there were 314 violent crimes on the road in 2011/12.
Mr Stewart, who lives in Chandler's Ford, Hampshire, but is originally from New Zealand, suffered a broken nose, cuts, bruising and swelling.
No one has been arrested for the assault, which took place in Old Christchurch Road at 01:20 BST on 2 September.
Suspected skull fracture
The semi professional was on his way to the Walkabout pub with a teammate when they passed a group of men and women.
"One of the guys said something like 'stop looking at our girls' and I think we replied something like 'we're not, they're ugly', he said.
"The next thing I knew I came round in hospital the next morning."
The salesman was taken to Poole Hospital where he remained for 24 hours while X-rays were carried out for suspected skull and facial fractures.
"I looked in the mirror and saw my injuries and thought what happened?" he said.
"I was told I'd fell face first into the kerb. I've got scars and a chipped tooth but my skull was not fractured."
Mr Stewart and his friend were unable to provide descriptions of the attackers, who struck from behind.
"There was a CCTV camera but it wasn't switched on," he said.
Mr Stewart checked himself out of hospital the next day and made a statement to police.
"I asked police to publicise the attack on their website but an officer told me that more assaults happen on that street than anywhere else in the UK so they couldn't put them all on."
The police.co.uk website, which records crime nationwide, shows 21 violent crimes were reported in the Old Christchurch Road area during August.
Mr Stewart played his first competitive game of rugby since the attack for Bournemouth 2nd XV on 29 September.
Anyone with information about the attack is asked to contact Dorset Police.