Sainsbury's iPad used for indecent photo in Bournemouth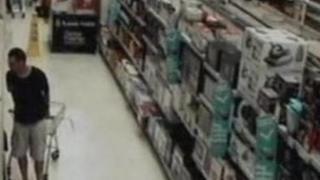 A man who used an iPad on display in a supermarket in Dorset to take photographs while he indecently exposed himself is being sought by police.
A member of public saw the photo he had taken on the iPad and made a complaint.
It happened in Sainsbury's at the Castlepoint Shopping Centre, Bournemouth, on 14 August at about about 10:15 BST.
Police have only now released a CCTV image of a man who they believe can help with the investigation.
Insp Mike Claxton, of Bournemouth police, said: "This has left a member of the public and their family deeply shocked by what they saw, and we are taking this incident very seriously."