Reece Menzies murder: New CCTV images of Audi released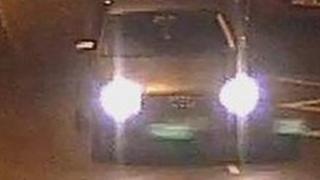 Police investigating a suspected gang-related murder in Dorset have released CCTV images of a car in what is described as a "major breakthrough".
Reece Menzies, 21, from London, was shot dead after three intruders entered his home in Roumelia Lane, Boscombe, on 25 July.
Police have asked for help to identify a car seen driving towards the scene.
New CCTV images of a silver Audi A3 have been released, with detectives keen to trace its occupants.
The vehicle was driving from nearby Christchurch Road into St John's Road.
'Seen running'
Det Ch Insp Kevin Connolly, who admitted the motive for the attack was still unclear, said: "We believe that the people in this Audi A3 may have important information regarding Reece's death.
"We are treating this as a major breakthrough as we work to identify his killers.
"I need to identify the car's registration number, the owner of the car, and - most importantly - the occupants within the car."
Following the murder, three men were seen to run from Roumelia Lane into Sea Road in the direction of the sea.
All three men were wearing dark coloured hooded tops and at least one was wearing a balaclava.
A 22-year-old man arrested over the shooting has been released on bail.