Dorset Police describe July as 'extraordinary month'
1 August 2012

From the section

Dorset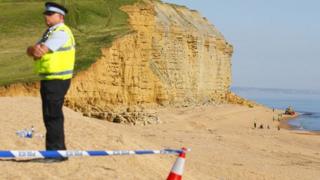 In the wake of four murder investigations, three tragic deaths in landslides and two fatalities on the county's roads, July has been labelled "unprecedented" by one of Dorset's top police officers.
Assistant Chief Constable James Vaughan said events of the past month have left his force handling "an extraordinary level of demand".
Four separate murder investigations were launched in the space of 10 days, three in the Bournemouth area and the fourth in Weymouth, at a time when considerable numbers of officers were deployed to support security at the 2012 Olympic sailing in Weymouth.
"That's an extraordinary level of demand for a force of our size to handle or indeed any police force for that matter," ACC Vaughan said.
"We would normally expect to see three or four murder investigations in a year in Dorset and now we are investigating four in a short space of time.
"It is on the back of no murders for the previous nine months in the county, but in my years of policing, I've found you just cannot anticipate how things like this will happen."
'Imported crime'
Last week, Bournemouth East MP Tobias Ellwood raised concerns that one of those murdered, Londoner Reece James Menzies, may have been the victim of a "planned hit".
The 21-year-old was shot dead in Roumelia Lane, Boscombe, on 25 July.
Mr Ellwood said he feared the murder may be linked to the rising numbers of Somali gangs coming into Boscombe from London and other cities. Writing to Chief Constable Martin Baker earlier this week, he called for a meeting over the issue.
ACC Vaughan believes significant progress has been made in Boscombe to curb so-called "imported crime" from other cities.
"We've made 60 or so arrests over a 12-month period in relation to emerging drug problems in Boscombe," he explained.
"These are operations we've been working on for some time and we're making great progress in these areas."
'Working with us'
Asked if the MP's comments were detrimental, ACC Vaughan said: "These aren't distracting. Mr Ellwood gave me the courtesy of discussing these issues a while ago.
"His views and concerns are rightly welcomed as he is the area's MP and is looking out for the interests of his constituents.
"We will be further discussing plans around the wider regeneration of Boscombe in the near future.
"Some centre around social housing and the numbers of rehabilitation centres.
"Perhaps there are too many and it can be detrimental to bring people into Boscombe who may be disruptive.
"Tobias Ellwood's involvement is a positive one and he is working with us, not against us."
As well as the death of Mr Menzies in Boscombe, Dorset Police are also investigating the violent stabbing of Spanish student Sergio Retamar Marquez, 23, outside his flat in the Lansdowne area of Bournemouth on 18 July.
A Bournemouth man, 29, was arrested on suspicion of murder and has been bailed and transferred to a mental health unit.
Three days later, mother Leah Whittle, 42, was found dead inside her Benville Road home in Weymouth. A 16-year-old boy has been charged with her murder.
Last Friday, Angelo Rodrigues, 45, died from multiple stab wounds at an address in Coleman Road, Bournemouth.
Tracey Ann Mansell, 60, and James Joseph Kinsley, 40, both from Bournemouth, have been charged with Mr Rodrigues's murder.
'Significant progress'
Meanwhile, the force has also handled the tragic deaths of Somerset couple Rosemary Snell and Michael Rolfe. Their bodies were crushed inside a car under the weight of a landslip at Beaminster Tunnel on 7 July.
Just two weeks later, 22-year-old Charlotte Blackman died as she was buried under rocks by a landslide at Hive Beach, Burton Bradstock, on 24 July.
Reassuring the public, ACC Vaughan said: "None of these murders are connected in any way. They do not involve the same offender.
"In some cases we have already made arrests and in others, people have been charged.
"We're making significant progress on investigations which require a high level of specialist police involvement and we have been given additional resources from both Avon and Somerset Police and Wiltshire Police, should we require them.
"It's been an unprecedented month, but I have to pay tribute to the valiant effort of our officers and to the families of the victims, our thoughts are very much with you at this difficult time."