Weymouth marks opening of London 2012
28 July 2012

From the section

Dorset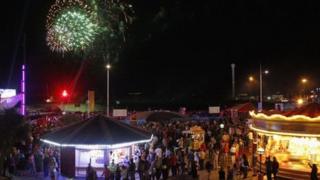 Weymouth seafront has hosted celebrations to mark the start of London 2012.
Thousands descended on to Weymouth Beach to watch the opening ceremony in London relayed on big television screens.
Members of the British sailing team also appeared on stage.
Traffic restrictions in the town centre and seafront have been put in place ahead of the sailing and windsurfing events starting on Sunday.
Assistant Chief Constable Adrian Whiting believes their handling of the recent Olympic Torch Relay demonstrated an ability to handle security at the largest Olympic venue outside London.
He said: "We're nervous to make sure that everyone's in a position to perform at the best of their ability and our logistics are spot on, but we're very, very excited at the opportunity.
"We're looking forward to our operation going live into the thick of the action."
Up to 60,000 people are expected to watch Ben Ainslie bidding for a fourth Olympic Gold medal when he competes in the Finn class on Sunday, 5 August.
The day has already been dubbed "Ainslie Sunday".
A control room in Dorchester has been set up to monitor traffic in and around Weymouth.
Angus Campbell of Dorset County Council said: "We've put a huge amount of planning and effort into making this as easy flowing as it can be.
"Every scenario has been looked at - we just have to be able to deal with them as quick as we can."