Bournemouth Imax site outdoor events plan submitted
16 July 2012

From the section

Dorset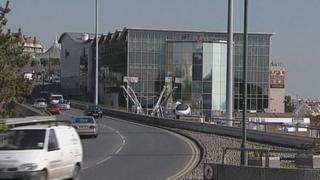 Plans for a new outdoor events arena on Bournemouth seafront have been submitted by the council.
The new arena would be located on the site of the Imax Waterfront building which is due for demolition in the autumn.
Bournemouth Borough Council's planning application proposes using the site for extreme sports, music, dance and community events.
If approval is granted, the new arena is planned to open before summer 2013.
The Bournemouth Symphony Orchestra and Pavilion Dance have both already expressed an interest in staging performances at the waterfront site.
Leader of the Conservative-run council, John Beesley, said: "We know that local people will be glad to see the back of the Imax building, but it is what could be in its place that is really exciting."
The building has been criticised as an eyesore since it opened as an Imax cinema in 2002. It closed three years later.
In 2010 the council wanted to lower the building to reclaim views, but received "no suitable bids" from developers.