Olympic torch: Flooding could affect Dorset relay route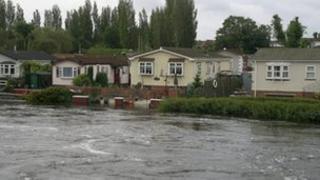 The route of the Olympic flame may have to be altered because of flooding in Dorset, following heavy rainfall over the weekend.
The torch relay is due in the county on Thursday, Friday and Saturday.
Angus Campbell, chairman of Dorset's Olympic Board said: "We have alternatives in place if the weather causes further difficulties."
A Met Office yellow weather warning remains in place with further rain due to fall on already saturated ground.
The A35 between Winterborne Abbas and Dorchester and the A3066 Beaminster Tunnel were closed because of flooding.
Residents of a mobile home park in Bournemouth spent the night out of their homes as levels on the nearby River Stour rose on Monday afternoon.
'Everything is wet'
About 40 people from the Iford Home Park were moved to local hotels as a precautionary measure. Others spent the night with friends and family.
The Environment Agency said levels had "stabilised" overnight.
Neil Watson from the agency said the high levels of rivers, including the Stour and Avon, were the consequence of the heavy rainfall over the weekend.
He said: "Across all of Dorset we have seen flash flooding, surface water flooding and ground water flooding which is exceptional. Now the larger rivers are pumping their efforts in as they reach their lower limits.
"Everything is wet but but after three days we are seeing the last of the water tailing off from Friday and Saturday's rain."
Flood warnings are still in place for the region.