Giant red ball in Weymouth streets for Cultural Olympiad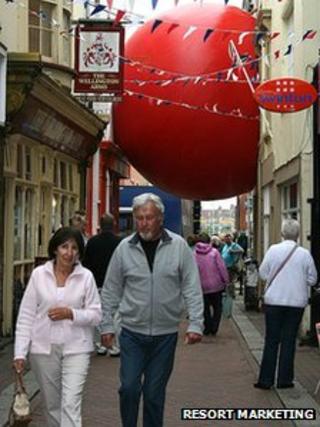 A 15ft (4.6m) red inflatable ball has arrived on the streets of Weymouth.
The ball is in the town which is due to host the Olympic sailing events as part of Maritime Mix - London 2012 Cultural Olympiad by the Sea.
Designed by New York artist Kurt Perschke, RedBall has drawn crowds to cities around the world including Barcelona and Sydney.
It will be spending four days in Weymouth placed at a different architecural location each day.
Mr Perschke said he came up with the idea to make people more aware of the architectural space in their town.
He said: "It's as tall as a lorry. It's somewhere between a sculpture and a performance.
"I wanted something that would play with a place as opposed to being another sculpture on a corner."
RedBall is one of more than 80 arts events taking place each month until the end of the Paralympic Games planned for Weymouth, Portland and the Jurassic Coast.
The projects, which include visual arts, music and outdoor theatre, aim to inspire people to get involved in local art.
The seaside town is host to the London 2012 Olympic & Paralympic sailing events.