Poole Twin Sails Bridge legal action 'not anticipated'
15 June 2012

From the section

Dorset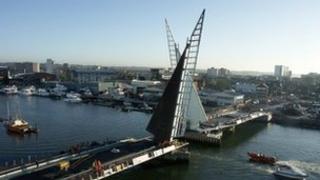 Legal action against Dorset's Twin Sails Bridge prime contractor is "not anticipated" despite numerous setbacks, Poole Borough Council has said.
A total of 15 "snagging issues" have been recorded so far including problems with operating systems, hydraulics, barrier systems and power supplies.
Emergency repairs were needed when parts of the road surface fell away while the lifting bridge was raised.
Contracter Hochtief (UK) Construction Ltd is to meet the council on Monday.
A council spokeswoman said they would continue to monitor that the prime contractor is "fulfilling its contractual obligations".
The latest remedial work took place on Wednesday night.
Despite the setbacks, which also led to a delay in opening the bridge, the council said 98% of bridge lifts have been achieved.
The Twin Sails project has cost an estimated £40m.
The bridge officially opened to traffic for the first time on 4 April but had been due to open in February.