Emily Longley trial: Mother denies covering up murder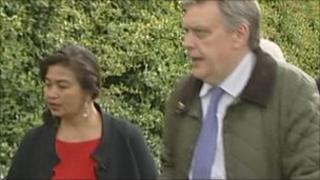 The mother of a Dorset man accused of strangling his girlfriend in a jealous rage has told a court she did not help cover up the murder.
Anita Turner, 51, told Winchester Crown Court her son Elliot did not kill aspiring model Emily Longley, 17, in his bedroom at their Bournemouth home.
Mrs Turner and her husband Leigh both deny perverting the cause of justice.
Elliot Turner, 20, of of Queenswood Avenue, denies murder but admits perverting the cause of justice.
Mrs Turner said she did not help to destroy a letter the prosecution alleges was her son's confession to the crime last May.
She denied she knew Emily was dead an hour before an ambulance was called.
She admitted she removed a family friend's jacket from Mr Turner's bedroom when it was a crime scene, but claimed police officers saw her and she did not believe this was attempting to pervert the cause of justice.
Giving evidence, Indonesian-born Mrs Turner told the jury that Emily had stayed often at the house and was "very easy to get along with".
Difficult to wake
She said Emily appeared to have health and emotional problems from her past and had confided in her.
Crying, Mrs Turner explained how she had assured Emily's grandparents, who the teenager lived with, that they should not worry about her when she was in her care.
She said in the past Emily had been difficult to wake when she was staying.
On one occasion it had taken her 25 minutes to rouse Emily because she had been drinking the night before.
Describing the events on the morning of 7 May, Mrs Turner said her son woke her up and asked if she could wake up Emily.
She said: "I called her name. Emily was asleep with the duvet [on her]. She didn't wake up so I just tapped on the duvet. I called: 'Emily, Emily, wake up, wake up'.
"She didn't wake up. I didn't think anything at all. I made a cup of tea and I still called her.
"I tried to let her sip the tea but her mouth would not move.
"I called Elliot and we were both trying to wake her - we kept shaking her.
"I said: 'There is something really wrong - she does not move'.
"He [Mr Turner] said: 'I think she got a terrible, terrible headache last night'."
Mrs Turner was asked why she did not call an ambulance and replied that she did not at that point believe Emily was dead.
Under cross-examination, Mrs Turner was asked if she thought Emily had ruined her son's life.
After a pause of six seconds she replied: "No."
The trial continues.