Portland's £15m academy project criticised
30 April 2012

From the section

Dorset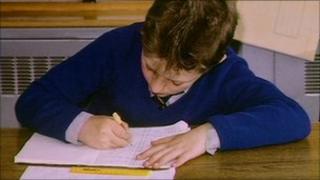 Plans to replace four of Portland's schools with a £15m academy have been criticised by the head of a local primary school on the island.
Trevor Jameson, from St George's School, said the Aldridge Community Academy would reduce parental choice.
Under the plans, pupils can stay at the school from the age of four until they have completed their A-Levels.
Supporters of the school said it would be a world class institution. Dorset Council is also backing the scheme.
Mr Jameson said: "It's a massive experiment in children's education and if I were a parent on Portland I'd move.
"I wouldn't want my children's education experimented on like this."
'Quality education'
There is currently one secondary school, three primary schools and a junior school on the island.
All of these, except St George's, will merge to form the new academy, which is will be based on land at the Southwell Business Park and Chesil Cove and will open in September.
The academy will include a 200-seat theatre, swimming pool, sports, art, drama and music facilities and professional kitchens.
Paul Green, the head teacher at the island's only secondary school, Royal Manor Arts College, said: "We are creating a new educational system but we are doing it in an evolutionary sense not a revolutionary sense.
"I genuinely think that if people look at this in three or five years' time, people from all of the world will be coming to look at what we are doing on Portland.
"They will see that we are investing in quality education from a very early age."