Fire at property on private island in Poole Harbour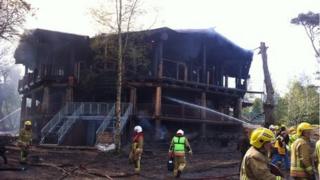 Firefighters have tackled a "ferocious" property blaze on an island in Dorset's Poole Harbour owned by a millionaire.
About 45 crew members were taken by boat to Green Island, which was bought in 2005 for £2.5m by Edward Iliffe, from Newbury, Berkshire.
On arrival firefighters found a blaze in a four-storey timber building which was under construction.
In 2010 Mr Iliffe received planning permission to site a six-bedroom log cabin on the 45-acre island.
It was to be purpose-built in Canada from cedar logs and shipped over. He intended the island to be an "idyllic retreat" for his family.
Incident commander Ben Ancell said: "We've had fires on islands in Poole Harbour in years gone by, but not as ferocious as this and not as intense as this.
"There was a risk of the fire spreading to other parts of the island and affecting the trees, the red squirrels, and the other nature on the island."
Dorset Fire and Rescue Service was called to the island at 07:20 BST.
Station manager Andy Fox said firefighters had been unable to venture inside the property because of its "structural instability".
It suffered a partial collapse as crews fought the blaze.
The initial teams who travelled to the island have been relieved by other crews from the mainland.
Firefighters are expected to be on site for the rest of the day and possibly into Saturday.
As the tide went out, crews were forced to use water from barges moored offshore instead of saltwater from the island's jetties.
Poole Harbour Commissioners transported equipment taken from eight fire engines which were lowered on to barges by cranes.
Both Poole RNLI lifeboats were launched and fire crews from nearby Brownsea Island also attended with water pumps.
There are no reports of injuries but a hazardous area response team from South Western Ambulance Service is on the scene.
It is not known at this time how the blaze started, however a fire investigation officer is on the island and an investigation has begun.
Green Island is the third largest in the harbour. It was previously used by the Green Island Trust, a charity providing holidays for disabled and disadvantaged children.
It is a Site of Special Scientific Interest and situated across the water from Sandbanks.