RNLI plans to build lifeboats at its Poole HQ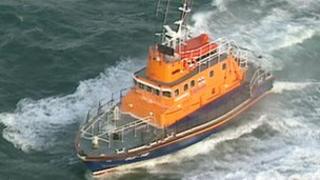 The RNLI has drawn up plans to bring future production and maintenance of its all-weather lifeboats to its headquarters in Dorset.
The new facility will be built on RNLI land next to Holes Bay in Poole and will create 90 jobs, the charity says.
It will cost £11.2m to set up, but the RNLI says bringing the work in-house will save £3.7m a year.
If the project is given planning permission, work will start in 2013 and the site will be operational from 2014.
Shannon class all-weather lifeboats currently cost the charity £1.5m each.
Doing the work in-house will cut out contractors' profits and other overheads.
Refit and overhaul work will be carried out at the new site from the spring of 2014.
Staff offered transfer
Hull and deck moulding, currently being done at RNLI SAR Composites at Lymington, will move over by 2019.
Staff from the Lymington site will be offered jobs at the Poole facility and the RNLI also plans to extend its apprenticeships scheme.
Paul Boissier, RNLI chief executive, said: "We need to make the best use of the donations we receive and so I've been leading a continuous improvement programme at the RNLI for the last two years.
"We've made significant efficiency savings, some of which can now be used to allow us to build our own lifeboats - we'd be our own customer and we have a water-tight order book.
"We've been successfully producing our own inshore lifeboats at an RNLI facility on the Isle of Wight for decades, and we have no plans to change this.
"To pay for the new facility, we would use £6.2m of our efficiency savings and aim to fundraise for the remaining £5m through trusts and corporate partnerships.
"In the long term, saving £3.7m of donors' money each and every year is a higher return on investment than we could expect elsewhere, and is equivalent to the cost of two-and-a-half new Shannon class all-weather lifeboats."
RNLI volunteers provide a 24-hour search and rescue service and operate more than 230 lifeboat stations and 160 lifeguard beach units along the UK and Republic of Ireland coasts.