Bournemouth stroke patients leave hospital early for home help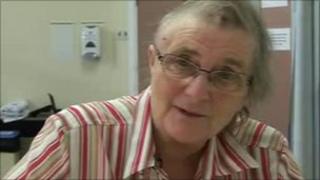 Six weeks ago, Valerie Newell could not see, speak or move after having a stroke, but is now leaving hospital three weeks early under a new home care scheme.
Mrs Newell is one of 60 stroke patients to leave the Royal Bournemouth Hospital early under the six-month pilot project.
Instead of being kept in hospital, they are receiving specialist care in their own homes.
Speaking about going home, Mrs Newell said: "I can't wait, I'm really excited."
About 30 hospitals in the country are providing the service, but at the Bournemouth hospital, beds for stroke patients are also being reduced.
The hospital said it was about giving patients better care, not about saving money.
It said it would be cutting 20 of its stroke beds, from 56 to 36.
'Adapt rapidly'
In Bournemouth 700 people a year have strokes, according to the hospital.
Nearly half, it added, would get better quicker if they were treated by specialists at home instead of in hospital.
Dr Damian Jenkinson, from the hospital, said: "I think the reason that people get better faster at home, with early supported discharge, is probably to do with the setting.
"They're back with their family, they're in their own environment, they can adapt to it more rapidly."
He added it costs about £240 a day to keep a stroke patient in a hospital bed, but caring for a patient at home costs the NHS just £13 a day.
Under the scheme, which began in August, patients usually receive about two weeks of care in their own homes.
They are supported seven days a week by physiotherapists, occupational therapists, nurses, speech and language therapists and rehabilitation assistants.
So far only one patient being cared for under the new service has had to return to hospital.
'Smooth transition'
Julia Mardo, a senior physiotherapist at the hospital, said: "It's amazing how much progress we can make within the time that we've got with people. It has surprised me."
David Jones left the hospital two weeks early following a stroke. He said: "In the hospital it's got no relation to reality.
"You've got to be able to manage at home eventually."
Danny Hames, head of operations for The Stroke Association in the South West, said: "We know that many people prefer to return home as soon as possible.
"Early discharge can be a good option provided health and social care teams work well together to ensure a smooth transition home from hospital, and stroke survivors and the people who care for them are well supported.
"It is also important that good provisions are made to support people who need to remain in hospital for longer."
The scheme at Royal Bournemouth Hospital will be reviewed in February.