Poole hospital midwife patients' details lost in theft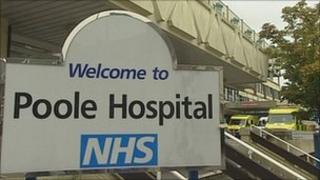 Two diaries containing the personal details of about 240 patients have been stolen from a midwife's car, a Dorset hospital has said.
Poole Hospital NHS Foundation Trust said the diaries contained details of expectant mothers between September 2009 and December 2010.
The trust said it did not know exactly which women's details had been lost so had been unable to inform patients.
It said there was no evidence that the information had been used or passed on.
No record
Midwives' diaries are used to keep a record of which women they have visited in the community, the trust said.
Martin Smits, director of nursing and patient services, said: "The issue we have had is in trying to identify people that would have been involved.
"We don't keep a record of which midwife has visited which women centrally. The midwives only use their diaries for this purpose."
The diaries, which were stolen on 16 February, included patients' names, addresses, details of previous visits and possibly other sensitive data, such as mental health.
Some 137 midwives cover the Poole, Purbeck, East Dorset, Bournemouth and Christchurch areas on behalf of the trust.
The midwives, 15 of which are out in the community at one time, were visiting 6,200 women between September 2009 and December 2010, according to the trust.
"We didn't want to alarm people unnecessarily and we certainly didn't want to contact 6,200 people in this particular case," Mr Smit said.
He added that the midwife concerned could not know for certain who she had visited without the diaries.
He said it was possible she might remember some women she had visited in the community and therefore their details would have been in the diaries, but she may also remember women she saw in hospital and never in the community, whose details would not have been in the diaries.
According to a report by the Information Commisioner's Office the midwife concerned had been asked to produce the two diaries from storage at her home address for audit purposes.
The report said it had been established that midwives were required to store such diaries at home in the event of needing to refer patients out of hours.
The diaries had been placed in the midwife's unattended car, outside her home address, which was subsequently broken into and the diaries were stolen along with other personal items.