Funds secured for Hengistbury Head visitor centre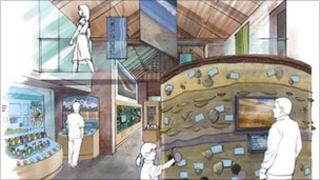 Funding for a new visitor centre at a coastal nature reserve in Dorset has been given the go-ahead.
Bournemouth Borough Council said work could now begin on the centre at Hengistbury Head as the £1m funding had been secured.
The Heritage Lottery Fund (HLF) has given £432,000. The rest is from the developer and landfill contributions.
The centre, in an existing thatched barn, will include a shop, exhibition and community space.
Rod Cooper, the councillor responsible for leisure services, said: "More than one million people visit Hengistbury Head every year and it makes sense that we should have a dedicated visitor centre where people can come and learn about the area's rich heritage, including the wildlife, geology and archaeology that can be found here."
The borough council has been planning to create a £1m visitor centre at Hengistbury Head for the past 10 years.
It is expected to open in spring 2013 and will be run by more than 50 trained volunteer heritage wardens and 10 apprentices.
It will feature displays showing the nature reserve's plants and animals and their habitats.
The centre will also have archaeology exhibitions about Hengistbury Head, chronicling its history from 60 million years ago when it was beneath a tropical sea, through to the Stone Age when humans hunted and camped there, to the Iron Age when it was an important trading port.