New mother to sue Poole Hospital after failed placenta op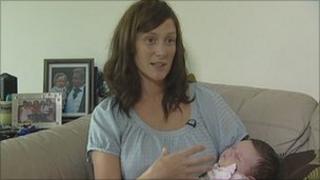 A couple from Dorset plan to sue the NHS after a series of problems which they say could have killed her.
Philippa Walker was left bleeding for four hours at Poole Hospital after giving birth to Nyah in July.
Her placenta had been retained and eventually she was taken in for an emergency operation but surgeons failed to remove all of the placenta.
Poole Hospital said her and her baby's wellbeing had not been compromised and guidelines were followed.
Mrs Walker was sent home after the birth and operation to remove her placenta.
But seven weeks later she was again taken to hospital for another emergency operation. Doctors found that a third of her placenta had been left behind.
'Negligent in care'
Mrs Walker, from Bournemouth, said: "Throughout that night [after giving birth] I had deteriorated so I needed a blood transfusion the following morning.
"I had two units of blood and I was just looking at my family thinking I need to be here.
"The really sad thing is it tarnished the joy of having a beautiful baby."
Her husband Lee said: "I can understand that things don't always go correctly. I'm not stupid, I don't expect a perfect result every time.
"But in this instance, this was not a case of a mishap, this was just negligence of my wife not being seen to correctly and dealt with correctly, and looked after correctly.
"The end result of that could have been fatal."
In a statement, Poole Hospital NHS Foundation Trust said: "Women coming to Poole Hospital to have their baby are clinically observed and assessed, and their individual needs planned for and responded to.
"We're concerned to hear of the issues raised, and that the experience of maternity care fell below Mrs Walker's expectations.
"We are confident that at no time was the wellbeing of Mrs Walker or her baby compromised, and that the clinical care she received was given in line with appropriate guidance.
"We will be providing Mrs Walker with a detailed report following our investigation into her care, and we do not believe it would be appropriate to comment further until this has been completed."