RAF aerial refuelling conversion at Bournemouth Airport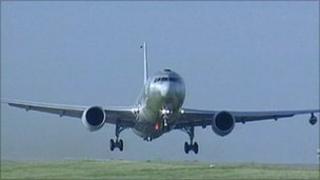 Work to allow the RAF's largest aircraft to carry out mid-air refuelling is under way in Dorset.
Cobham Aviation Services will convert 12 RAF Voyager aircraft at Bournemouth Airport to replace TriStar and VC10 aerial refuelling planes.
More than 100 jobs will be supported by the contract over the next five years.
The Voyagers, based at RAF Brize Norton in Oxfordshire, will be able to refuel aircraft at a rate of 5,000 litres per minute.
The RAF has bought 14 of the aircraft - a converted Airbus A330-200 airliner - under a 27-year private finance initiative contract worth £10.5bn with the AirTanker consortium.