Bournemouth Air Festival under way after flood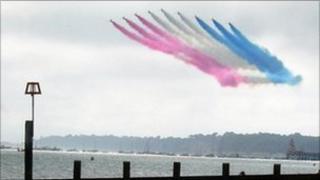 Bournemouth Air Festival is under way a day late after flash flooding forced organisers to cancel the first day of the event.
Flying was to begin at 14:00 BST on Thursday but the displays and live music in the town's Lower Gardens were called off.
A dusk air display had been expected to go ahead from 19:00 BST, but was also cancelled because of the downpour.
Thousands of visitors are expected in the town for the four-day free event.
It is the fourth year of the air festival, which takes place between Bournemouth and Boscombe piers.
Organisers said Thursday's displays were cancelled "to maintain public safety", but a full programme was expected on Friday, Saturday and Sunday.
The Red Arrows RAF display team is among the scheduled air displays, which began at 13:30 BST with the Tigers Parachute Display Team.
Festival director John Weaver said: "Today is looking like we can put a full programme on so you're going to see the Arrows, you're going to see the Battle of Britain memorial flight, you're going to see the return of the Sea Vixen jet, the Hawk jet is going to be coming in and, tonight, the dusk display."
The world's last flying Avro Vulcan had previously pulled out of the event after it developed a fuel leak.
Last year's Bournemouth Air Festival attracted about 250,000 visitors a day.
The final day of the 2010 event was also hampered by adverse weather, with some displays cancelled because of low cloud.