Poisonous adder snake bites woman on cliffs near Swanage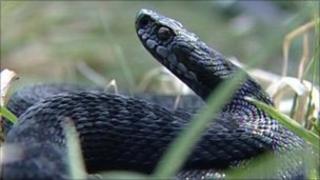 A 36-year-old woman is recovering in hospital after being bitten by a venomous adder snake while walking along cliffs in Dorset.
The victim, from Basingstoke in Hampshire, was bitten by the poisonous reptile just west of Durlston Head, near Swanage, on Monday afternoon.
Swanage Coastguard Rescue Team were called out by the woman's husband.
She was examined on the scene before being airlifted to Dorchester County Hospital for an anti-venom injection.
The adder is the only venomous snake found naturally in the wild in the UK.
The NHS said about 100 cases of adder bites are reported in the UK every year.
Since records began in 1876, only 14 people have been reported to have died from adder bites - the last in 1975.