Hosting London 2012 sailing events is 'biggest honour'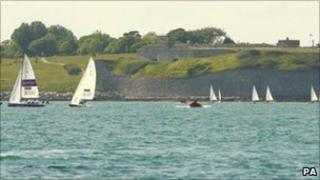 With a year to go until the start of London 2012, Dorset's hosting of the sailing events is the "biggest honour" for the county, says a councillor.
Howard Legg, from Weymouth and Portland Borough Council, who is overseeing the Games for the authority, anticipates up to 50,000 visitors into the area.
He said: "Our profile has never been higher, and to host something like the Olympics is the biggest honour.
"It's a once in a lifetime opportunity."
An important part of the Games is the legacy it will leave, and parts of what will form that legacy are already clear, he believes.
The £15m Weymouth and Portland National Sailing Academy was the first new Olympic venue to be finished, following the announcement in July 2005 that London had won the Games.
Its completion, in November 2008, was the first indication of the scale of the forthcoming event and the impact it could have.
He said: "We've already had 7,500 local schoolchildren trying out sailing for the first time, using the venue. Things like that are fantastic and benefit the community."
Elsewhere, the new 4.5-mile (7km) Weymouth relief road - linking Dorchester and Weymouth - opened in March 2011.
Mr Legg said that the road had "halved" the journey time between the two towns.
'High profile'
Other developments finished include a partial refurbishment of Weymouth esplanade - scaled back after some of its funding was lost - and a new "Olympic village": purpose-built athlete accommodation on Portland, which is planned to become social housing for local people after the Games.
But there are also the ideas that did not make it.
Plans for a new hotel and marina complex on the site of Weymouth Pavilion were cancelled after the developer went into liquidation.
But now plans for a 173ft (53m) observation tower on the site, as part of the plans to make the area a spectator venue, are under consideration.
Mr Legg said the time between now and the Games would involve detailed planning and an international sailing competition at the Olympic venue in August would act as a "dry run" for the Olympics event.
But his thoughts are already longer term.
Mr Legg said: "The biggest challenge will be after the Games and maintaining that high profile we've built up.
"A senior member of Locog told me that what people remember after the Olympics is not who won what, but they remember the venue, the atmosphere - and we want the people who visit us to want to come back again."